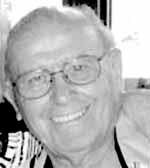 William "Bill" Melton, 89, passed away from kidney failure on 3/30/10, surrounded by his family.
Bill was born in Calgary, Alberta, Canada Aug 30, 1920. He proudly served in the Royal Canadian Air Force (RCAF) during WWII, stationed in York, England. Bill moved his young family to Santa Barbara, in 1952 to work at a popular appliance repair business called Meltime Repairs, owned by his brother Jack, better known as -Mel-. Later he was a supervisor at Sloans Surgical Instruments and then took ownership of the Union 76 in Mammoth Lakes. When a heart condition forced a move from Mammoth in 1986, he and his wife moved to Solvang where they managed a mobile home park for 16 yrs. He retired at the young age of 80 and moved to Reno in 2004.
He was an active member of many organizations, among them, Clan Guthrie Society, Rotary Club and Men's Forum of Solvang, and the 902nd Aero Camino Wing of the RCAF. Despite being in the RCAF, as a proud US citizen as of 1962, he was a supporter of many US veterans' organizations throughout his life, including donations to the construction of, and then visits to, Washington DC's WWII and Vietnam Veterans Memorials. He enjoyed traveling back to Canada to visit family and taking trips to many places in the US and overseas.
Most of all, family was the most important part of his life and he enjoyed nothing more than having them all together. Survived by his wife of 67 years, Lois of Reno, daughters Laraine (Bill) Ferguson of Borrego Springs, CA, Judy (Tom) Farnetti of Mammoth Lakes, CA, both graduates of Santa Barbara High, and Nancy Darden of Rancho Murieta, CA, graduate of Carpinteria High. Adored by his grandchildren, Tracy Burton Park, Cassidy Burton, Tia & Christopher Farnetti, Christina Farnetti Yafa, Haley and Hannah Darden and great-grandchildren Ethan Park, Olivia &Lucas Yafa. Also survived by his sister-in-law Alberta Melton Wilkins, nephews Keith and John Melton, all three graduates of Santa Barbara High. Preceded in death by his brother Mel, and in Canada, his 3 sisters and his infant son, Ross.
A Celebration of His Life is scheduled for August 28 in Mammoth Lakes. He'd be proud to know how many of his family and friends are traveling from across Canada & the US to honor this genuine family man. For more info or to send a memory, contact billandlaraine@live.com. In lieu of flowers, donations can be made to City of Hope, an organization he supported for over 50 years and the MS Society in support of two of his daughters who have MS.