James Severin Brush, 1912 - 2012

From the Daily Freeman, October 4, 2012: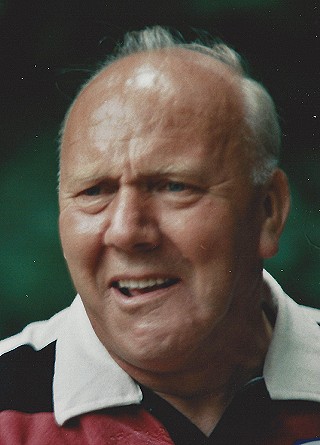 Photo by Juergen Zinsstag
James Severin Brush, born Feb. 6, 1921 in Stone Ridge, died Sept. 26, 2012 in Sarasota, Fla.
Mr. Brush was a former correctional officer at Eastern Correctional Facility for 29 years.
Most recently he worked as a Security Maintenance Manager for Sloan Technologies, Santa Barbara, Calif., and had retired in 1992 to Sarasota, Fla.
James was a member of the Ellenville Elks #1971, the Knights of Columbus and the American Legion. He was a World War II Veteran of the United States Army, having served from 1942 to 1945 with the 337th Combat Team, 85th Infantry Division.
Mr. Brush enjoyed ballroom dancing with Arthur Murray Dance Studios and was an avid golfer. He was a dedicated father to his eight children.
James is survived by Barbara Brush of Ellenville, Kenneth Brush and wife Beth Saltzman of Kingston, Kathryn Avery and husband Micky of Kerhonkson, William Brush and wife Cathy of Sarasota, Fla. and Robert Brush and companion Therese Morales of Kerhonkson.
Also surviving are 11 grandchildren, nine great-grandchildren and several nieces and nephews.
James was pre-deceased by his wife Margaret and his sons James G. Brush, John and Thomas.
Visiting will be held Saturday, Oct. 6 from 2 to 4 and 7 to 9 p.m. at H. B. Humiston Funeral Home, Kerhonkson.
A funeral service is scheduled for Monday the 8 at 10:30 a.m. at the funeral home. Burial will follow at Fantinekill Cemetery.
To send a personal condolence to James' family, please visit www.humistonfuneralhome.com.
---
Thoughts from a few friends:
Some of you may have already known but I just got a note from Billy Brush, one of Big Jim's sons. Jim died on 9/26/12 at age 91. He had several bouts with pneumonia and a few falls and just "wore out" per Billy. He did not suffer.
I love what Billy said about his dad working at Sloan: "After decades of hard work, his 'reward' was his time at Sloan. He so enjoyed it! His ability to spend time with Jim was well deserved."
When I think of his attitude and how dependable Jim was, how gracious, how hard working (think of all he had to do every time passed a new earthquake law), how generous when we all went out drinking.
I will miss my dancing and drinking buddy. R.I.P. Big Jim.
Pat Nichols
---
Sad to hear of the passing of one of my favorite Sloaners. I loved his happy disposition; never a grumble was heard at any request. I can still see his smiling, laughing face. A joy to work with and such fun at parties, dancing etc. He will live on in our memories. Iíll have to dig through my pictures and see if I can find one of him.
Kathy Flachsbarth
---
When Jim told me he was bringing his dad to work at Sloan, I thought it was bad news and Big Jim was coasting in now that he was retired. Was I ever
wrong!!!!
We couldn't have gotten along without him.
Glad to hear he had a fine super long life.
Miss you and think of you often, Jim.
Kat Marin
---
I will miss him. He was one of the best people I have ever known. He can now join Margaret

Bob Kuster
---